Same Day Delivery*
Order by 2pm for same day local delivery*
(Monday – Friday)
Excludes rural & East coast delivery addresses. Please contact us for urgent orders or check delivery information for more

Gifts
Beautiful hand poured soy candles, diffusers, natural body products and New Zealand crafted gourmet sweets

Passionate Northland Florists
We are a boutique online florist based in the far north.
We deliver fresh flowers, gifts and cater for all events and occasions.
Shop by category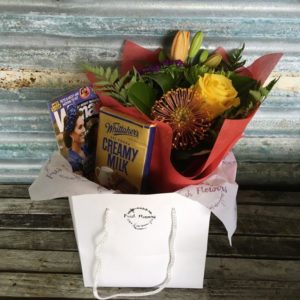 Gift Bag for Her
This "Gift Bag for Her" is perfect as a pick me up, happy birthday, Get well soon or simply just because.  Let her sit back and enjoy her flowers, reading the latest edition of New Zealand Woman's Day while enjoying some Whittakers chocolate
$

60.00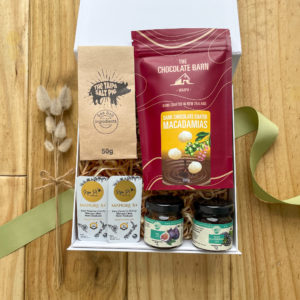 Northland Taster – Purely Northland
A small taste of Artisan products Northland has to offer, each gift box contains:
Taipa Salt Pig Sea Salt 50gm
The Chocolate Barn – Chocolate coated macadamia nuts 100gm
Due North Wild Blackberry Jam 40gm
Due North Plum & Kawakawa Jam 40gm
Nga Pi Kanuka Honey sachets 5gm x 2
Keepsake White Magnetic Sealing Gift Box
Your gift will be nestled into woodwool, plush white tissue sealed with our Native Toi Toi sticker and finally secured with grosgrain ribbon.
Accompanying your gift we will hand write your personalised message, please leave this note at checkout.
Tax included, shipping calculated at checkout. If an item is unavailable, a similar replacement at equal or extra value will be substituted.  
$

49.00