Same Day Delivery*
Order by 2pm for same day local delivery*
(Monday – Friday)
Excludes rural & East coast delivery addresses. Please contact us if you are not sure 09 408 1678

Gifts
Beautiful hand poured soy candles, diffusers, natural body products and New Zealand crafted gourmet sweets

Passionate Northland Florists
We are a boutique online florist based in Kaitaia.
We deliver fresh flowers, gifts and cater for all events and occasions.
Shop by category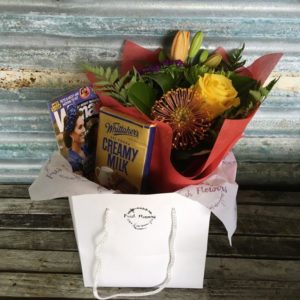 Gift Bag for Her
This "Gift Bag for Her" is perfect as a pick me up, happy birthday, Get well soon or simply just because.  Let her sit back and enjoy her flowers, reading the latest edition of New Zealand Woman's Day while enjoying some Whittakers chocolate
$

60.00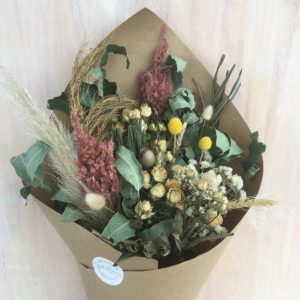 Dried Flower Posie
Looking for something everlasting?! Our dried flower posie full of different textures makes the perfect gift. Finished with Kraft wrap in your choice of colours accompanied by a gift message.
$

55.00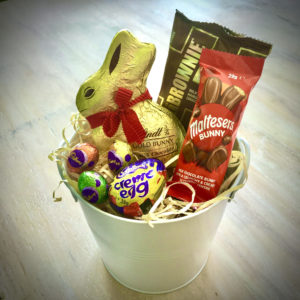 Tin Pail Easter Treats
Easter treats on a nest of wood wool finished with cello, ribbon and your personalised gift card.
Tin Pail contents:
Milk Chocolate Lindt bunny
Malteser mini bunny (my favourite…)
Cadbury crème egg
Cookie Time Chocolate brownie
Mini Cadbury milk chocolate eggs (3)
$

30.00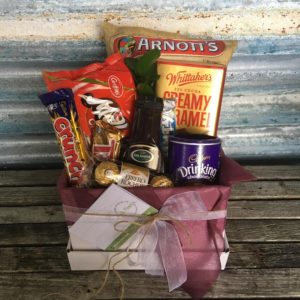 Choc-o-Block
Choc-o-Block full of chocolate treats, for the lover of chocolate, this is sure to go down a treat no matter who. Finished with cello and ribbon accompanied by your personalised message.
Gift box contents may vary due to availability
$

55.00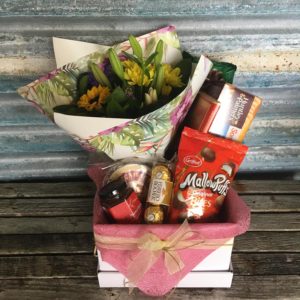 Bloom n Treats
Our Bloom n Treats is perfect for any occasion containing a flower posie, chocolate, cheese, crackers, chutney and other delicious treats and boxed up nice and pretty finished with cello, ribbon and accompanied by your personalised message.
Please note gift box contents may vary due to availability
$

70.00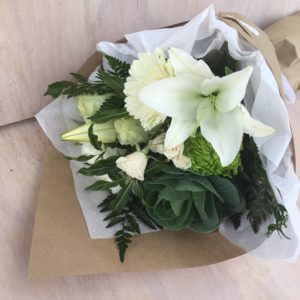 Signature White & Green Bouquet
Our signature white & green bouquet is our most popular bouquet. This is the bouquet where you choose the colour palette and wrap and we create to suit the recipients taste and personality using fresh seasonal flowers in pastel tones, different textures and foliages suitable for any occasion
$

45.00 –

$

180.00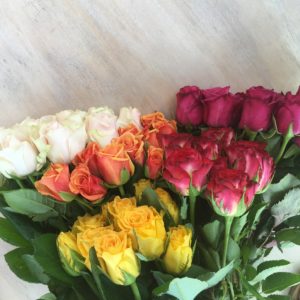 Valentine's Coloured Rose Bouquet
Premium coloured New Zealand Roses with lush green foliage beautifully wrapped in crisp kraft wrap finished with ribbon and your personalised message attached
$

35.00 –

$

165.00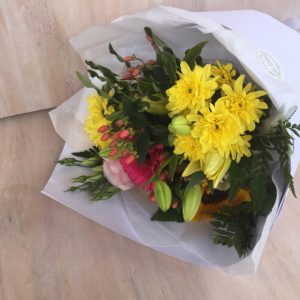 Signature Bright Bouquet
Our signature bright bouquet is our most popular bouquet. This is the bouquet where you choose the colour palette and wrap and we create to suit the recipients taste and personality using fresh seasonal flowers in pastel tones, different textures and foliages suitable for any occasion
$

45.00 –

$

180.00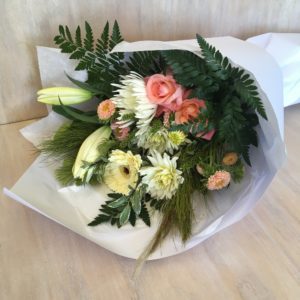 Signature Pastel Bouquet
Our signature pastel bouquet is our most popular bouquet. This is the bouquet where you choose the colour palette and wrap and we create to suit the recipients taste and personality using fresh seasonal flowers in pastel tones, different textures and foliages suitable for any occasion
$

45.00 –

$

180.00